Garrett G30-900, STANDARD ROTATION, 1.01 A/R INTERNAL W/G, V-Band
Original price
$3,063.71
-
Original price
$3,063.71
Garrett® G30-900 standard turbo assembly kit with 4" inlet and 2" outlet compressor housing and 1.01 A/R O/V, v-band in/out INTERNALLY WASTEGATED turbine housing.
Product Features:
New G Series compressor wheel aerodynamics
Fully machined speed sensor and pressure ports
Standard and reverse rotation configurations available
Oil restrictor and water fittings included with purchase
One piece center housing and backplate for increased durability
4 water jacket ports for customizable installation
Mar-M turbine wheel material rated up to 1050° C | 1922° F
Stainless steel turbine housings for temperatures up to 1050° C | 1922° F
Product Specifications:
Compressor Wheel Inducer: 62mm
Compressor Wheel Exducer: 76mm
Compressor Wheel Trim: 65
Compressor Housing A/R: 0.72
Turbine Wheel Inducer: 60mm
Turbine Wheel Exducer: 55mm
Turbine Wheel Trim: 84
Turbine Housing Inlet: 3 Inch O.D. V-Band
Turbine Housing Outlet: 3.55 inch (90mm)O.D. w/81mm centering ring V-Band
Includes Oil Feed (1mm) Restrictor Fitting to -4AN
Includes two Coolant Fittings to -6AN
Includes Turbine Housing Inlet & Outlet V-Band Clamps
Installation Hardware:
NOTE: Alternate coolant and oil fittings and flanges are available.
Compressor & Turbine Maps: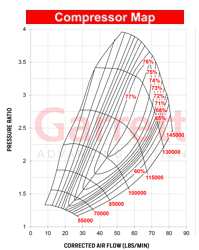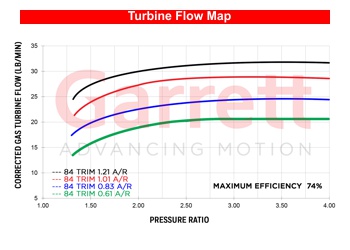 Garrett Part Number: