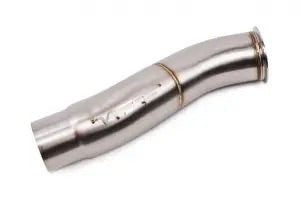 VRSF Stainless Steel Race Downpipe Upgrade for F10, F11, F15, F07 535i F12, F13 640i E70, E71 X5, X6
Original price
$399.99
-
Original price
$499.99
We are proud to introduce our VRSF 3.5″ race downpipe for your N55 BMW (full application list below).
This direct bolt-on high flow downpipe is THE best bang for the buck mod available. By eliminating the restrictive catalytic converter in the factory downpipe, back pressure is reduced significantly which results in faster spool, an increase in power & a more aggressive exhaust note. Our race downpipes feature a full 3.5″ stainless steel design and are handcrafted from SS304 grade stainless steel. They also include a lifetime warranty as well as our "No Hassle" satisfaction guarantee (includes fitment).
Please note that there is no exact year designation for 3.5″ or 4″ models across the board. We highly recommend that customers include the last 7 of their VIN in order to help us ensure you have selected the correct size for your vehicle. While we can assist with helping customers chose the correct size, it is the customer's responsibility to make sure they order the correct size.
VRSF F07, F10, F15, F11, F12, F13, E70, E71 N55 Downpipe Upgrade
Made from handcrafted, tig welded 304-grade stainless steel.
Direct bolt-on application
Smooth radius bends to decrease turbulence and increase flow.
CNC SS304 stainless steel flange.
Gains from 25 – 30hp with a tune.
VRSF Lifetime Warranty
Applications: 
2011 – 2016 BMW 535i & 535Xi F10 & F11
2011 – 2016 BMW 535i & 535Xi Gran Turismo F07
2011 – 2017 BMW 640i F12 & F13 Coupe & Convertible
2009 – 2014 BMW X5 35iX E70
2015 – 2018 BMW X5 35iX F15
2009 – 2014 BMW X6 35iX E71
2015 – 2019 BMW X6 35iX F16